OVER
THE RAINBOW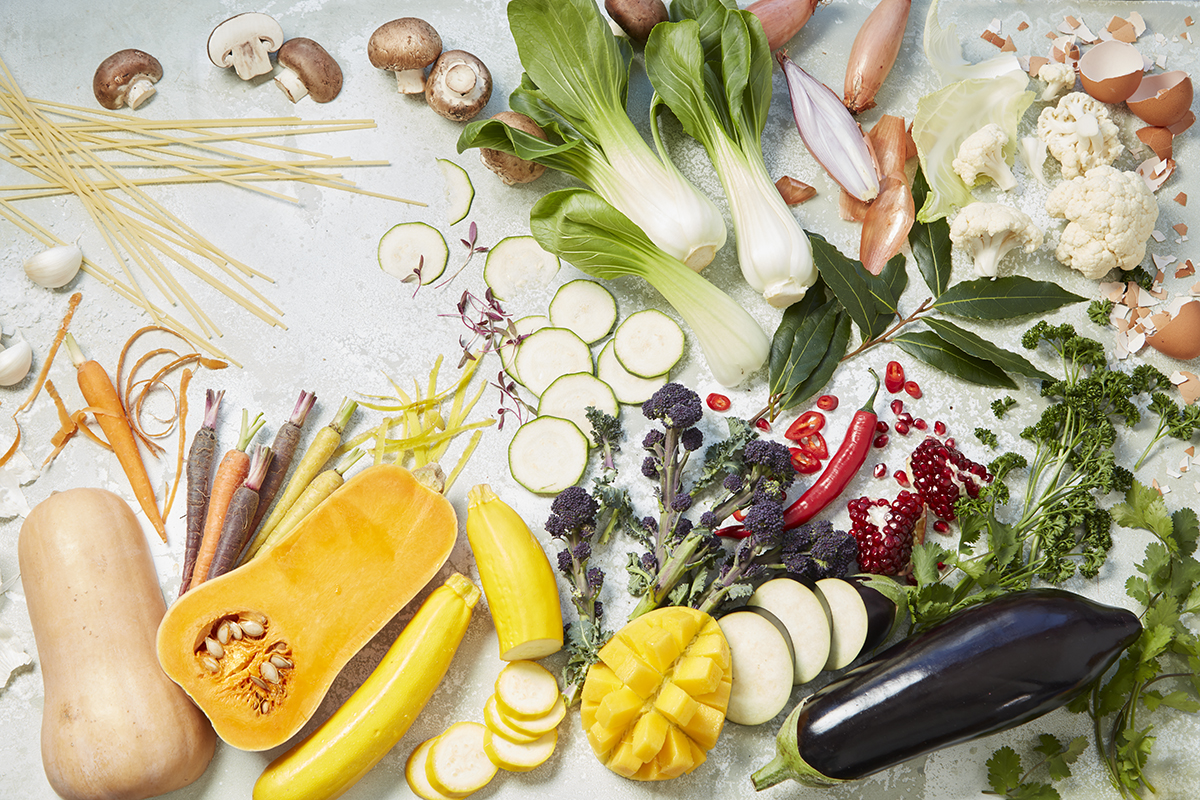 Not only are wonderful colourful plates of food packed with flavour, but they're filled with health-boosting vitamins. We explore some tasty dishes designed to showcase a plethora of rainbow foods, many of which are also served in the club.
Photography Clare Winfield Prop Styling Wei Tang
Food Styling Maude Eden & Leon Tudor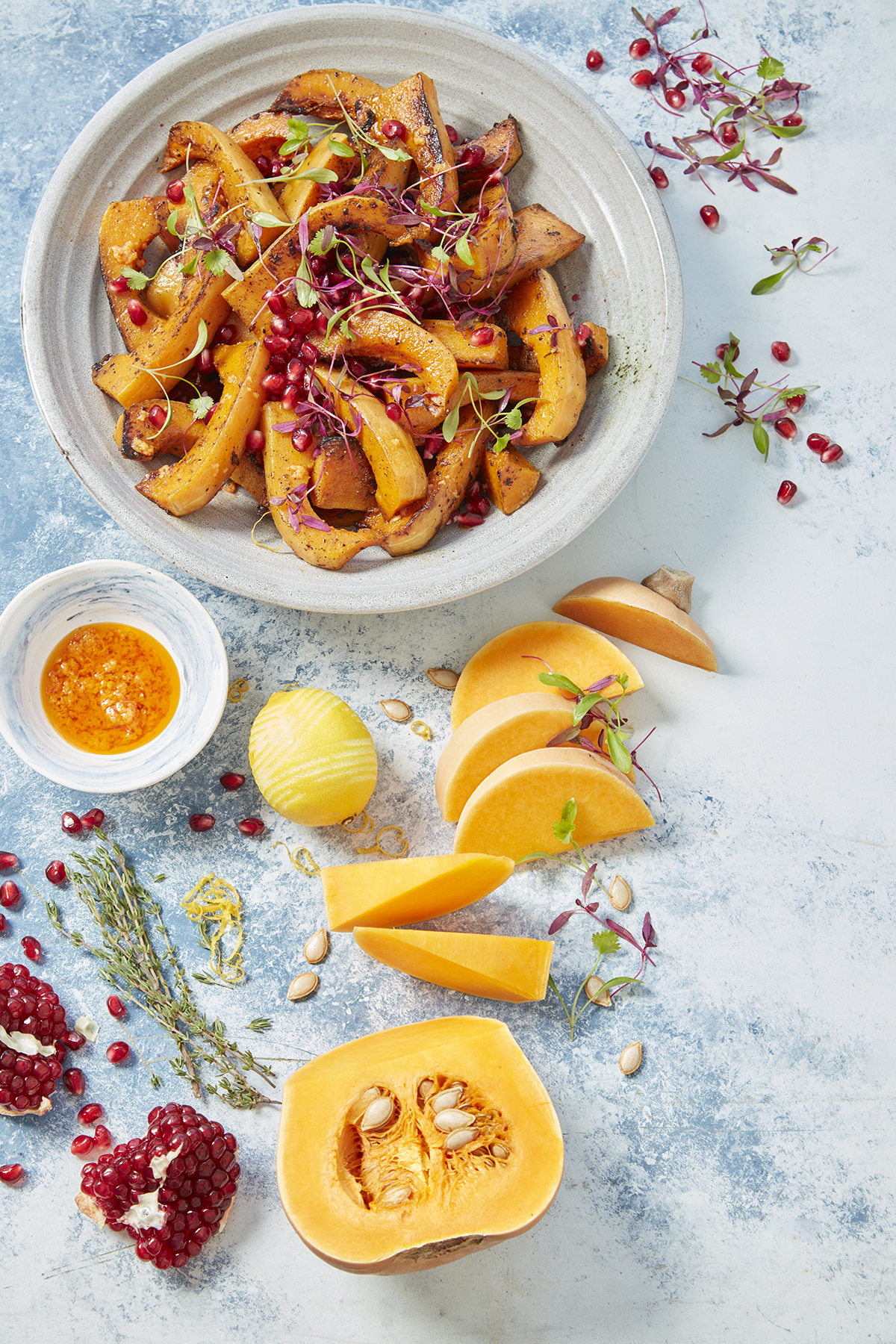 Butternut squash is a good source of fibre and potassium meaning it's beneficial for digestion, blood pressure, and healthy skin and hair
SUPERFOOD SALAD
This salad is exciting and tasty, but filled with essentials nutrients and vitamins. Quinoa is a clever gluten-free grain, high in fibre and protein and low in carbs. You can mix it with baby spinach which is high in iron, potassium and vitamins. This is balanced with the sweetness from the roasted butternut squash and scattered with gems of pomegranate.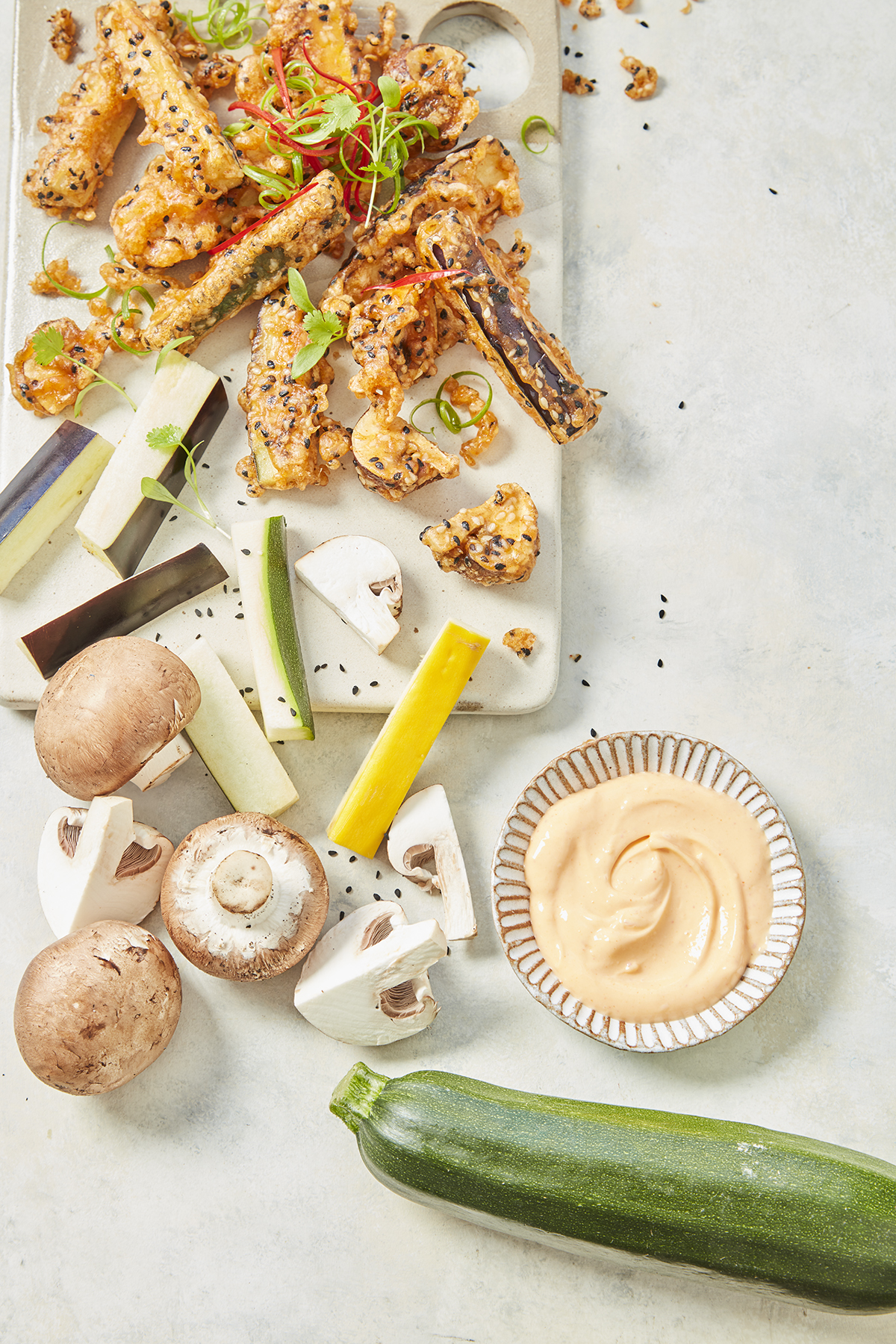 TEMPURA VEG
This dish has a satisfying crunch which makes for a fantastic alternative to chips! Made with delicious aubergines, chestnut mushrooms and courgettes in an ultra-light
 

homemade smoky batter. It can be served with a creamy vegan siracha mayonnaise.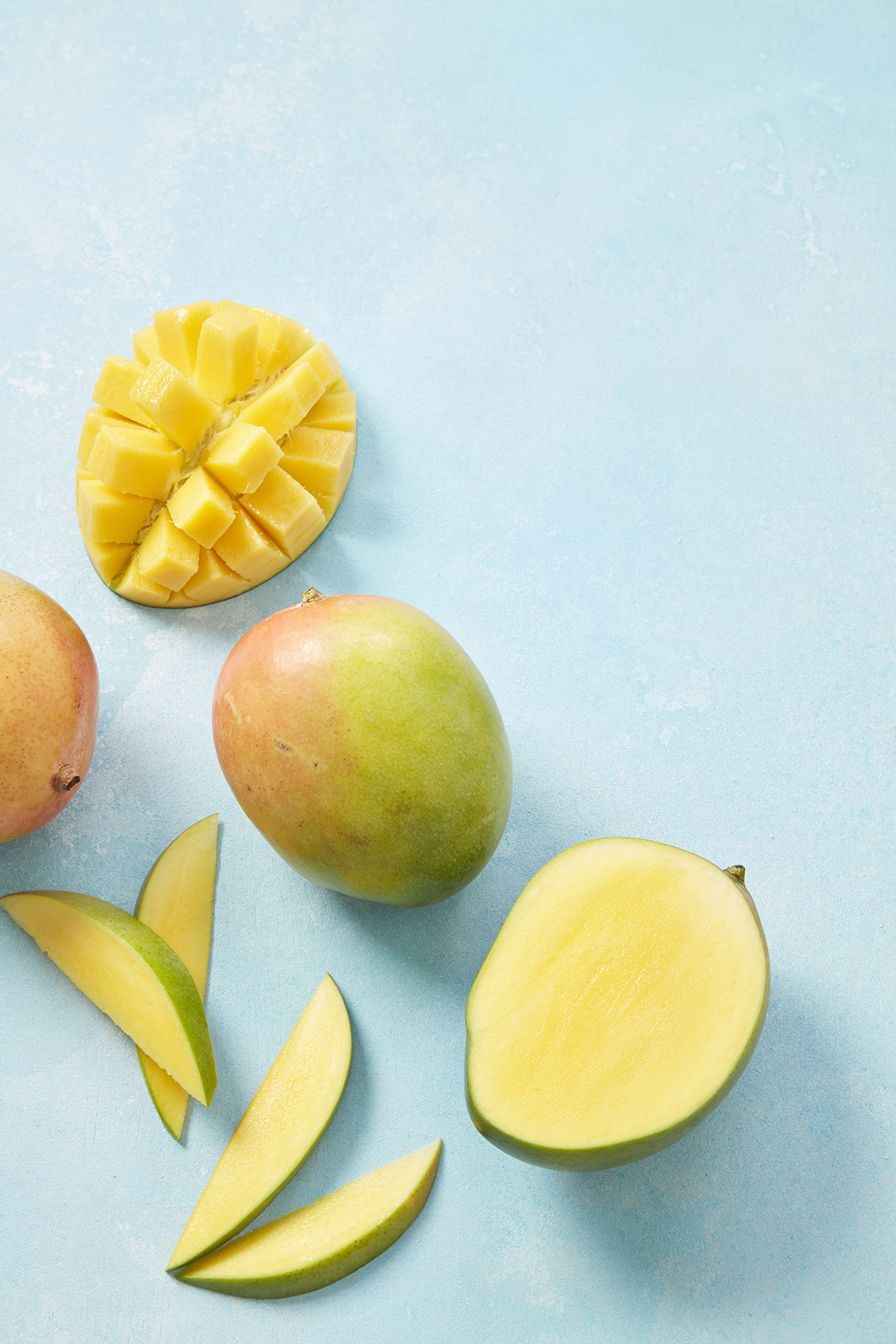 "Our bodies benefit from variety. For optimal health, we need a rainbow of nutrients and colours."
A SLICE OF SUNSHINE
Colour is essential in the culinary world. From the wonderful reds and purples of heritage carrots to vibrant leafy greens, ruby-coloured pomegranate seeds and sunny yellow mangoes, fruit and veg is tasty and beautiful. A rainbow plate can help you towards your 5-a-day. It's not just the colours themselves that are good for you – but they are wonderfully appealing to young children. Eating a variety of foods will help you get essential nutrients and, by doing so, you'll naturally embrace a broad colour palette.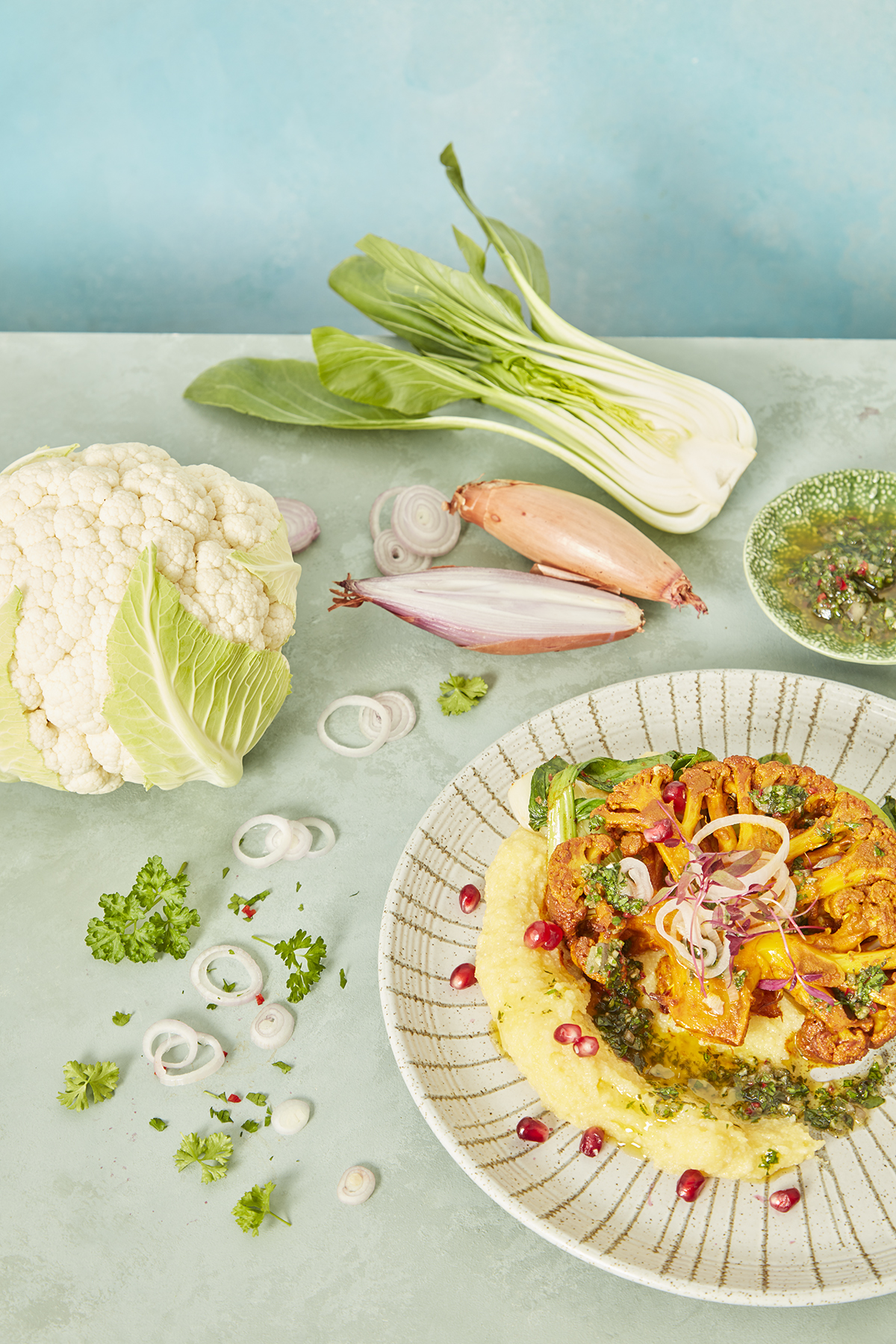 CAULIFLOWER STEAK
You don't necessarily need meat substitutes – vegetables are interesting and healthy in their own right. Cauliflower is high in fibre and B-vitamins and provides antioxidants and phytonutrients, which can also help protect against cancer. The savoury flavour in this dish comes from marinating and slow cooking the cauliflower, giving it a wonderful tenderness. It can be served with creamy polenta, bok choy sautéed in chilli oil and house-pickled shallots.
Like any good steak, serve it with chimi churi!
 

"Colourful, fresh ingredients are essential to a balanced diet. Replacing some of the meat in your diet with more veggies not only helps the planet but also yourself and
your family."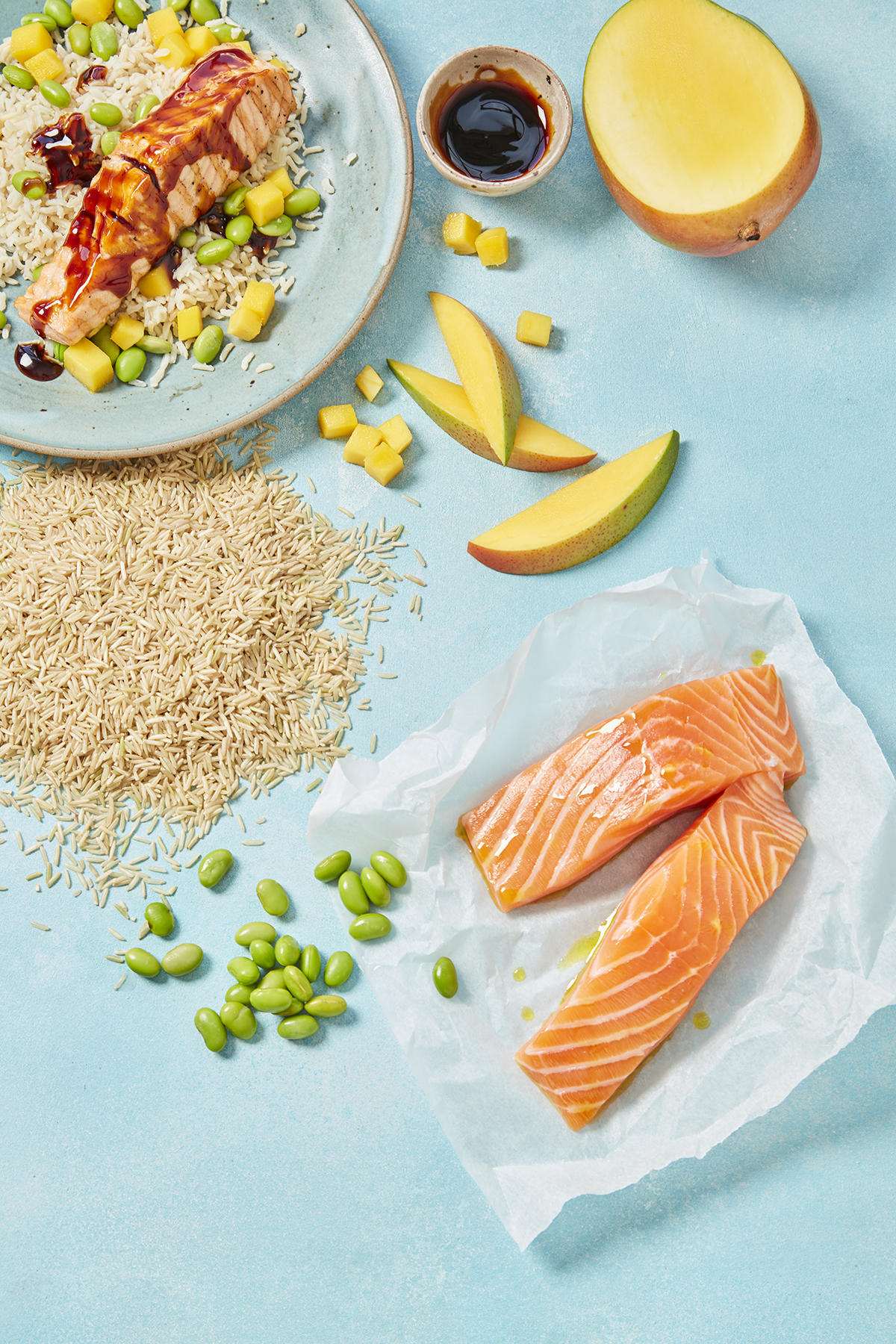 "At Purple Dragon, we strongly believe in balance. Whether you're tucking into a comforting chicken pie or a beautifully balanced vegan meal, we want you to know we've used the best ingredients, made it fresh that day, and cooked it with a big dollop of love."
TERIYAKE SALMON
The colour and flavour of the award-winning sustainably produced Loch Duart salmon
 

perfectly balances the deep colour and rich flavour of the teriyaki sauce, and zingy freshness of firm mango. It can be topped with edemame

 

beans, rich in antioxidants, fibre and protein. But nutrient-wise, the salmon is the star of the show. It's high in the protective antioxidant, but it's omega-3 fatty acids that make it good for young brains!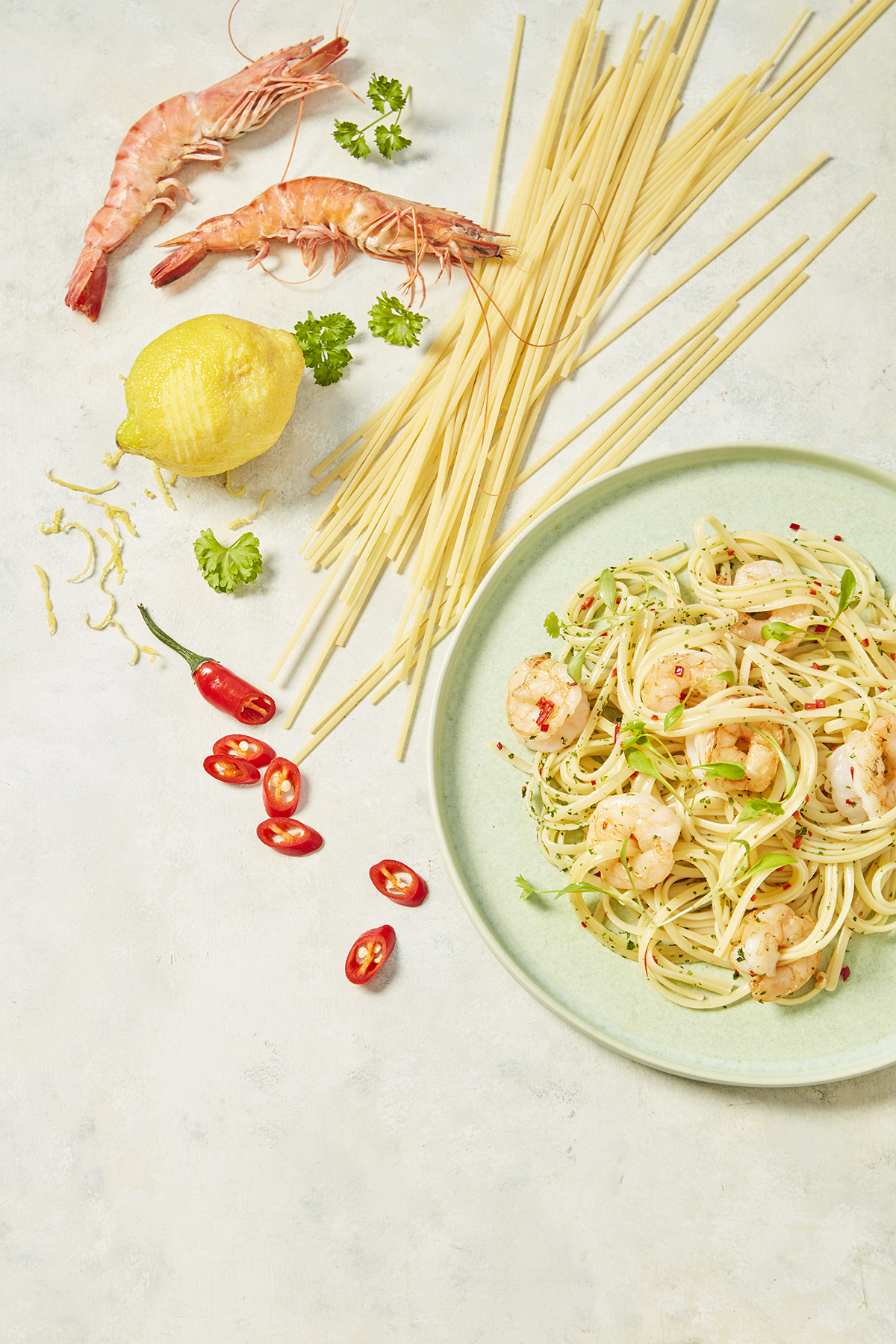 PRAWN LINGUINE
This wonderful pasta dish gives you the sweetness of the prawns accompanied with the freshness of the coriander and bite of the diced chilli. It's simple, moreish and tasty. And prawns are incredibly good for you too. They are a complete protein which mean they have all nine amino acids in the right proportions to help promote proper body function.