Incorporating art history into our programme is crucial to the learning process, says Purple Dragon Play Mentor IGNACIO GOROSTIDI
PHOTOGRAPHY NATO WELTON
PROP STYLING WEI TANG
HAIR & MAKE-UP REBECCA HADFIELD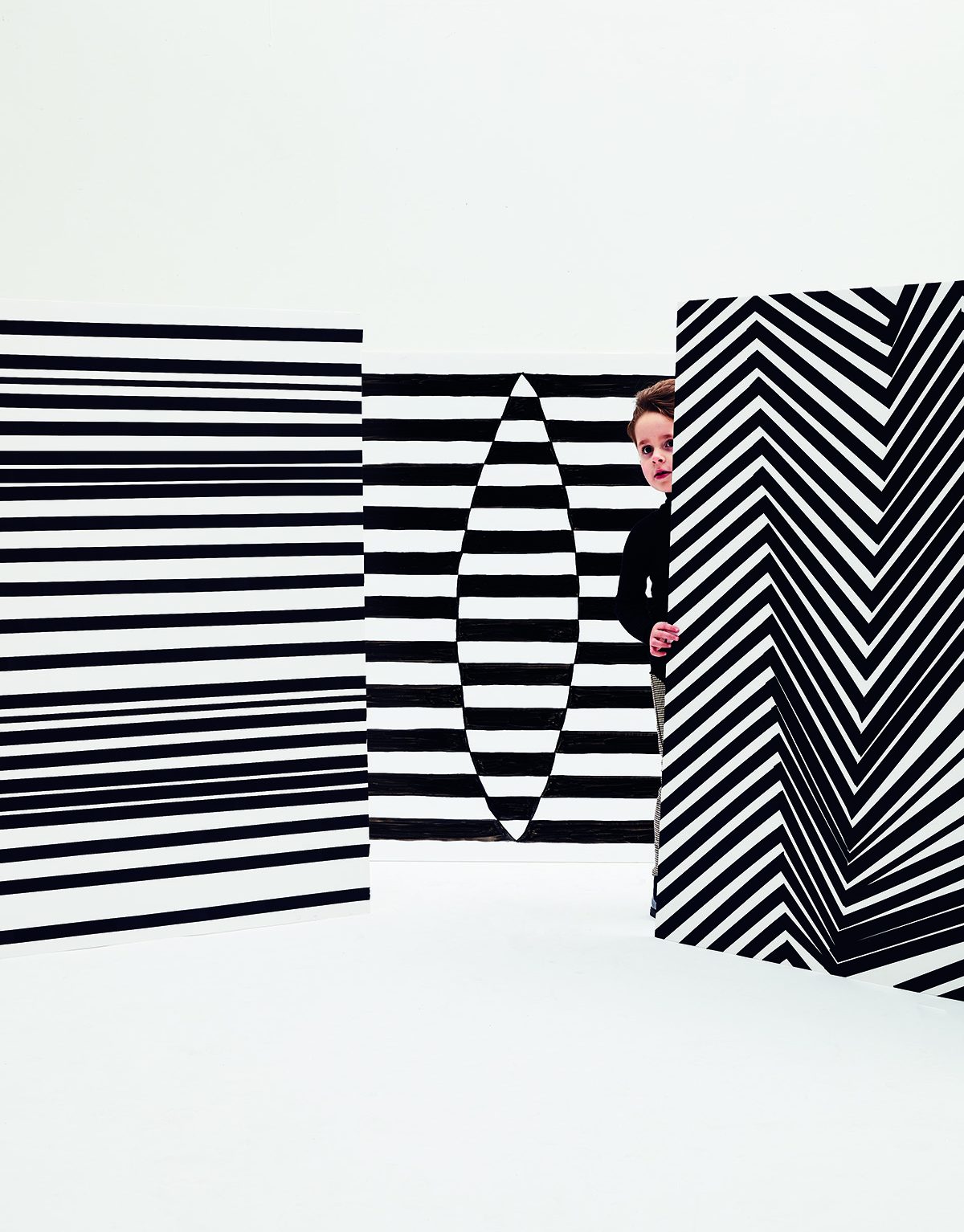 HOW TO MAKE AN OPTICAL ILLUSION LIKE BRIDGET RILEY
An iconic artist from the 1960s and 70s, she put colours, shapes and patterns together in clever ways to create optical illusions. "Paint can be messy, so we used black tape in different widths to recreate some of her most famous artworks.
Does it look like it's moving to you?"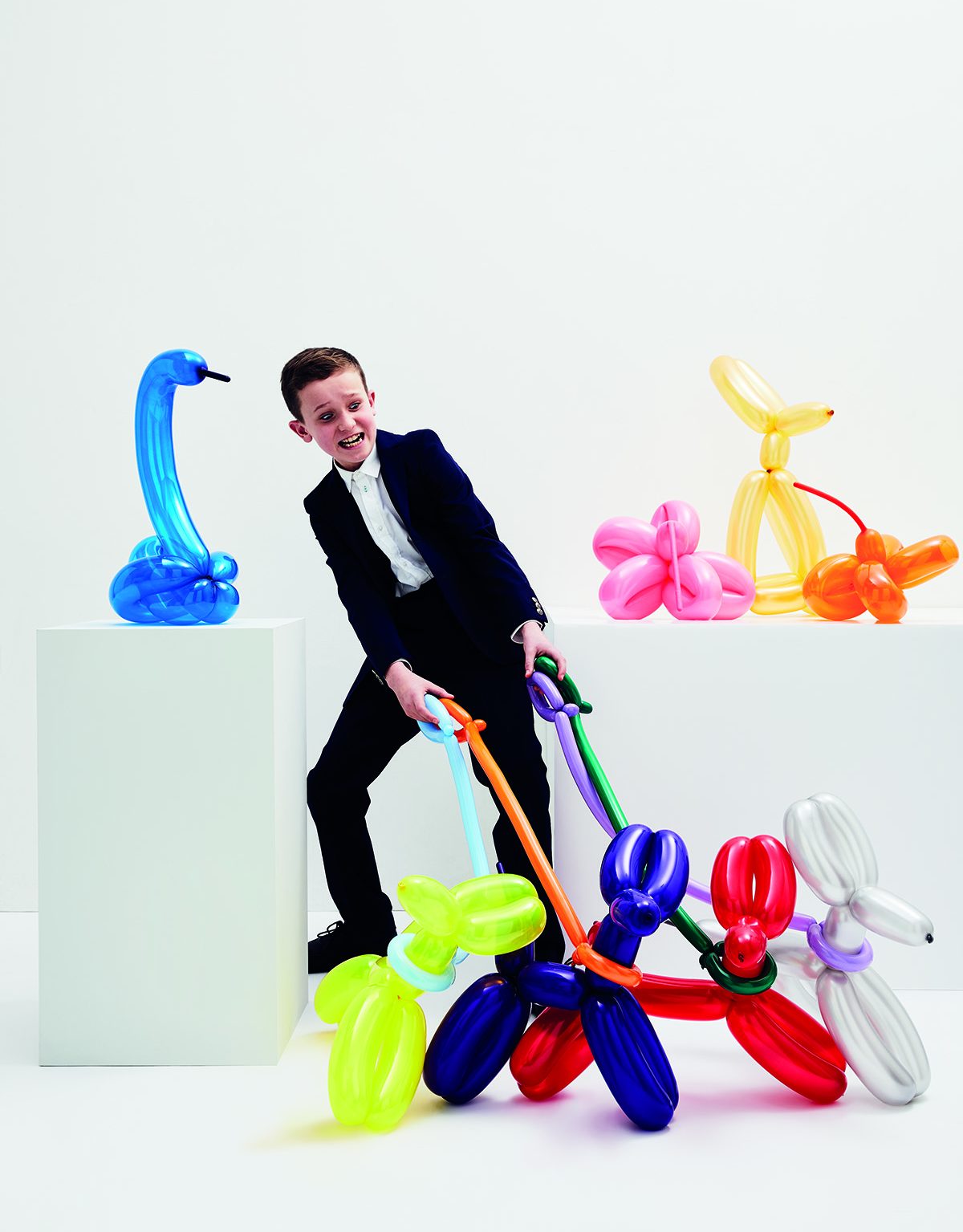 In the blue
Brogan Blazer, £230, Brice Trousers, £120, and Smart Oxford
White Shirt, £79. mariechantal.co.uk
"On the first Wednesday of
every month

our whole team comes together for shout outs, awards and training. David Crofts came and taught us balloon modelling, so we can all be a bit more

Jeff Koons

…"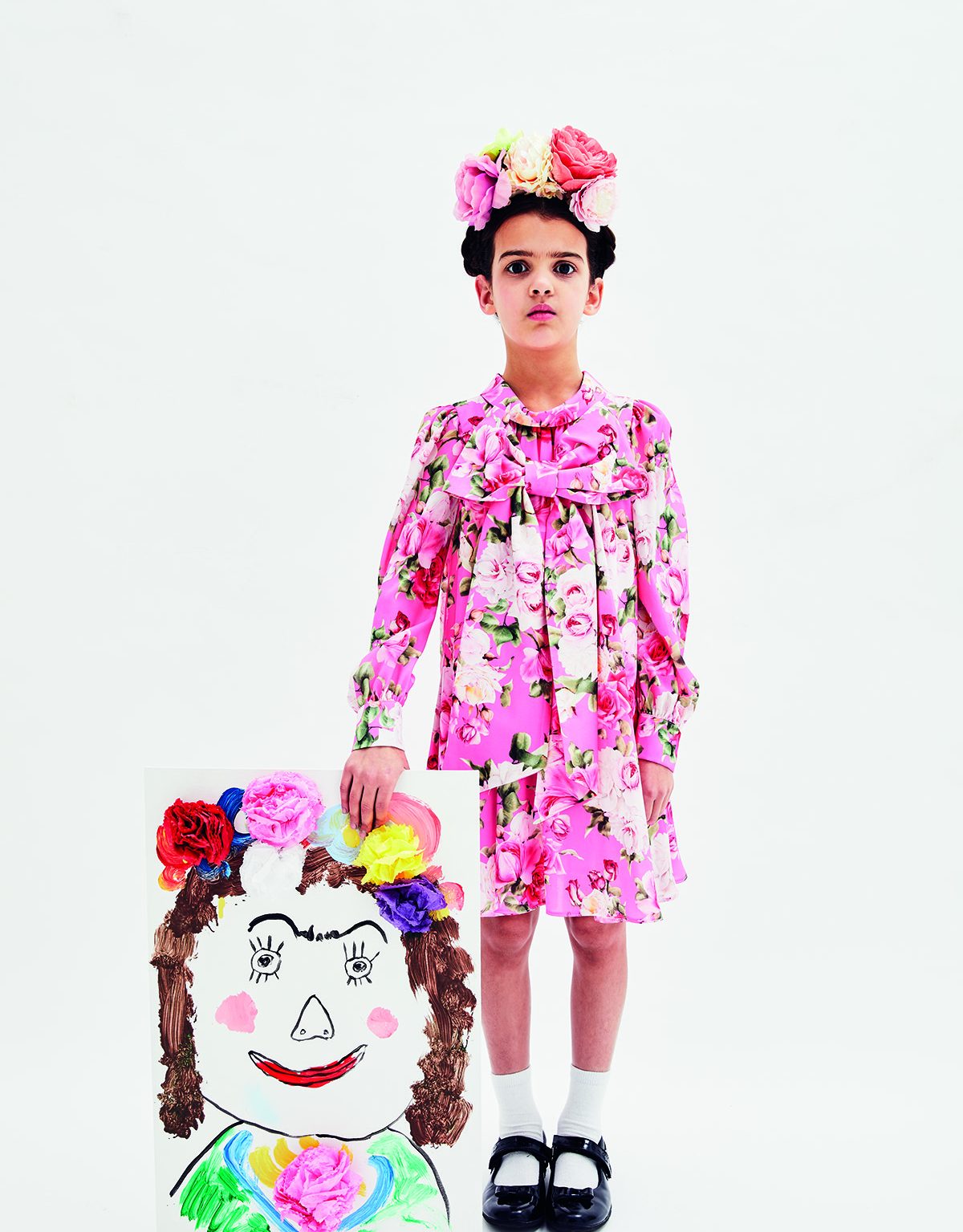 ART is a way of expressing ourselves in a different language. It's our own personal language. It supports early years childhood development through encouraging creativity, communication and confidence.
It's not just about painting either. There's collage, ceramics, sculpting… in the Art Lab we cover as many techniques, processes and artists as we possibly can. Things we don't know, we learn.
Experts come in once a month to help the Play Buddies brush up their skills – it's one of the best bits of the job. At Purple Dragon, each month is themed around a different topic, and in the Art Lab we link it back to an artist.
For example, during our Chinese New Year week, we recreated Ai Weiwei's Sunflower Seeds installation (exhibited in the Tate Modern from 2010 to 2011) and designed collages full of sunflower seeds. During our Flowers in Bloom week, we recreated the work of Japanese artist Azuma Makoto, known for his amazing 'iced flowers'. The children used fresh flowers, displaying them in a tray full of water; later on we will freeze those trays.
Imitation is crucial in every learning process. It not only helps us to properly understand the technique behind an artwork, but during the process it can lead to new and exciting ways of doing things, ending with something you didn't expect.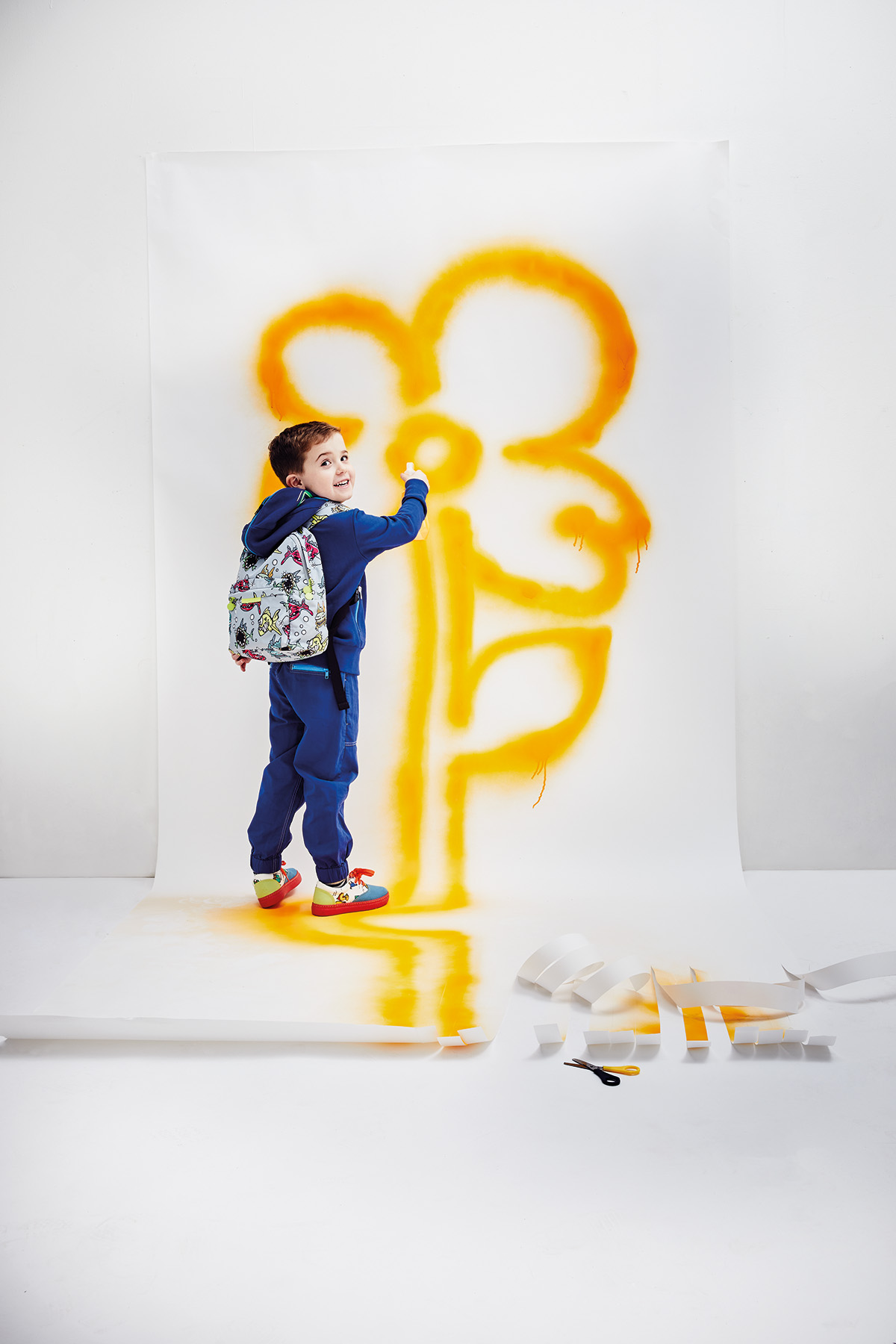 "Children are fascinated by Banksy. Art doesn't just have
to be in galleries. It's on the streets. It's all around us. And it's something that they can
do too"
Yellow peril
Cargo Trousers with Contrast Details, £85, Zip-up Hoodie Sweat with Monster Face Details, £94, Super Dude Colour Block Sneakers, £103, and Angry Fish Small Backpack, £80. stellamccartney.com
HOW TO MAKE A COLLAGE LIKE FRIDA KAHLO
She's known for her self-portraits and bold use of colours. "Once the children have drawn a likeness of themselves, we help them decorate it with flowers. These are made from paper folded into a fan and then carefully pulled into shape. It's simple but really effective."
In the pink
Pink Floral Crêpe Dress, £110 at childrensalon.com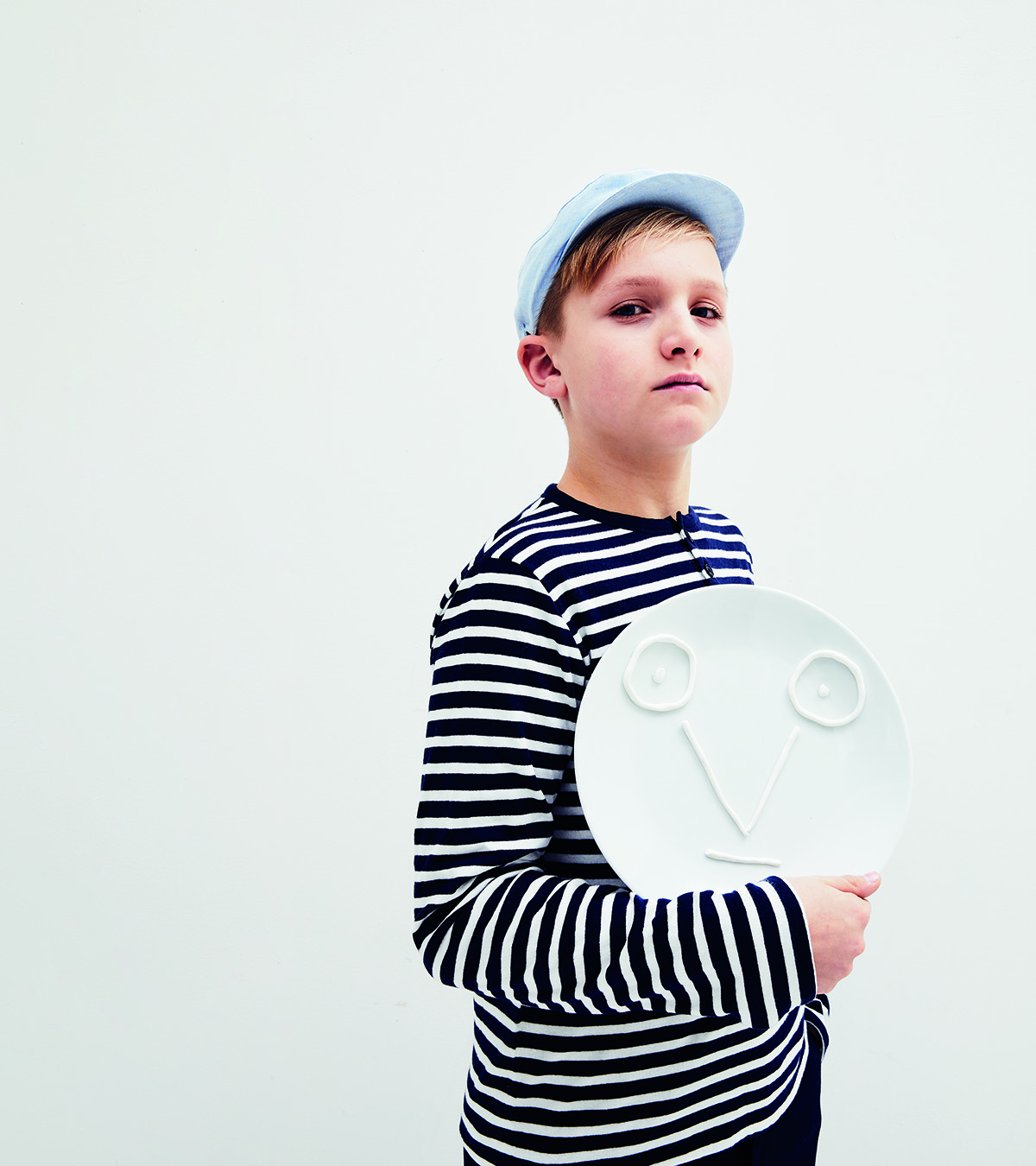 How to make Picasso plates
"We encourage children to use different materials and explore their creativity. For this activity, we used FIMO on a porcelain plate to recreate Picasso's famous face plates."
Mono magic
Grevi Blue Linen Cap, £61, and Carrément Beau Blue & White Stripe Top, £12, at childrensalon.com
"When asked to
recreate a famous
Yayoi Kusama portrait we had no idea how to do it.
But through imitation
we discovered the
techniques she must have used and made something exciting and
unexpected, it took our breath away"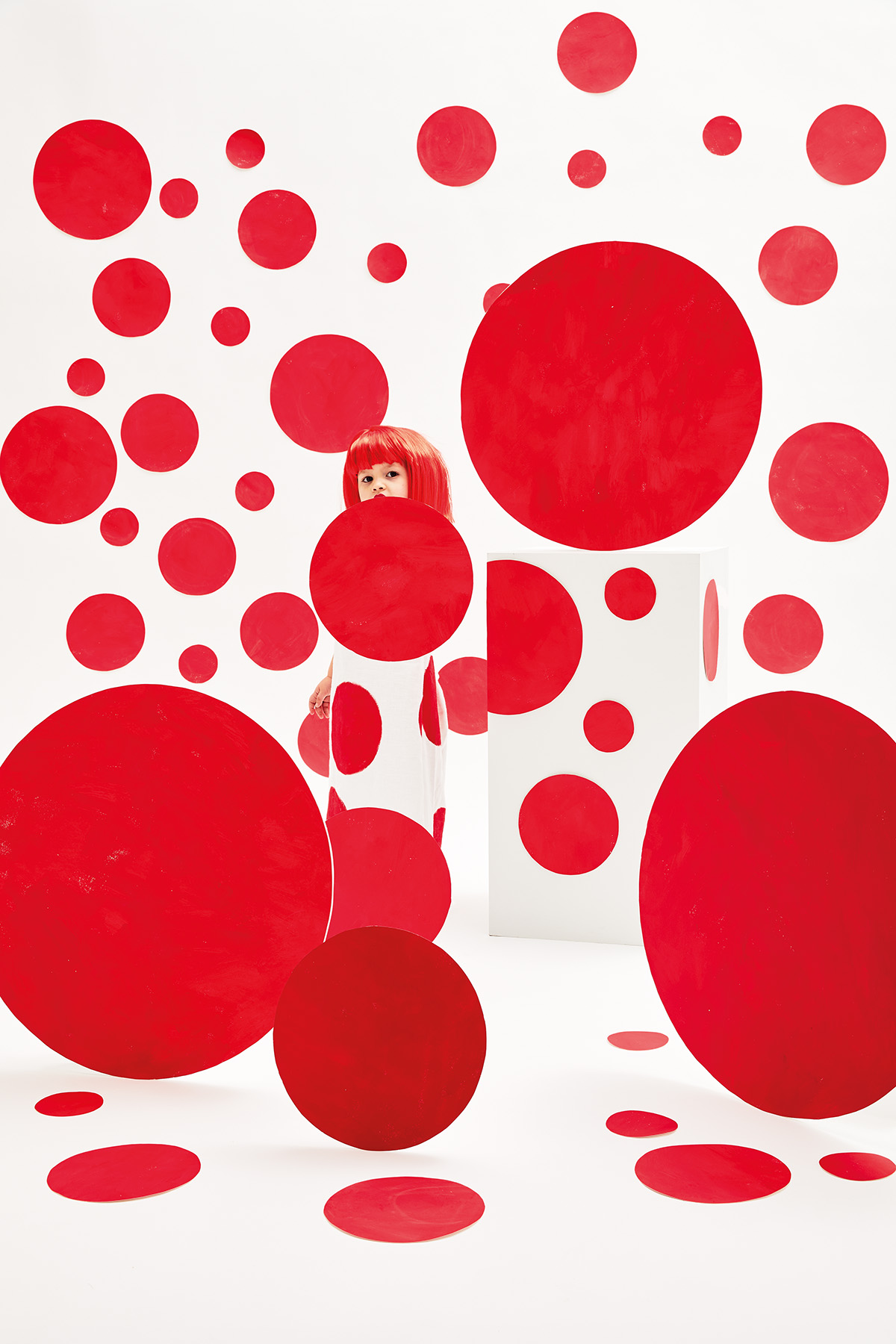 With thanks to Ava Stanbury as Bridget Riley, Sid Knewstub as Jeff Koons, Valentina Panayi as Frida Kahlo, Wilf Knewstub as Picasso, Penelope Fitzpatrick as Yayoi Kusama and Archie Knewstub as Banksy