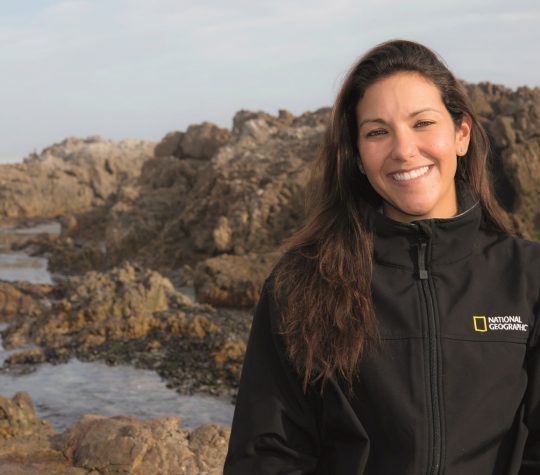 Dr. Andrea
Marshall
Andrea Marshall is a marine biologist and
founder of the Marine Megafauna
Foundation. Known as the 'Queen of
Mantas,' she is one of the world's leading
experts on manta rays and recognised as a
National Geographic Explorer. Andrea is
mother to Mia (3) and lives in Mozambique
What inspired your love of the ocean?
I've been in love with the sea my whole life and have been diving and travelling from an early age. Seeing first-hand how the ocean is being degraded inspired me to become part of the solution and encourage other people to play a part too.
What's been your most incredible dive?
Some of my most memorable encounters have been with giant manta rays in Mexico and in Mozambique. To be midwater with an enormous animal and have them 'play' with you is an extraordinary sensation. Mantas are just so different to other fish and are really curious around divers. They drive the encounter and when they are done, they swim off. Sometimes I feel as if I am the one being examined.
Describe your daily routine?
Research is my life, so I do not have typical working hours. On field days, I get up early in the morning and get out on the water as soon as possible. We usually do anywhere from two to five dives, taking photo IDs and genetic samples or putting on satellite tags. We then spend the afternoon prepping gear for the next day and doing data entry. On bad weather days, I spend a lot of time behind the computer inputting and processing the data, trying to publish our results or making headway on our conservation initiatives. When running a research centre you never get days off, but then again my work is my passion so I do not mind it too much.
You were the first person in the world to complete a PhD on manta rays, why mantas?
Since I was a young girl, I had always wanted to find my niche and give back in the same way as some of the early conservationists like Jane Goodall and Silvia Earle. This ambition took me to the east coast of Africa where little marine research was being conducted. I joined teams doing some of the first exploratory diving along the Mozambican coastline. I was absolutely blown away by the pristine condition of the coastline and in particular the large populations of manta rays. As no-one had really studied manta rays before, I decided to take on this challenge as I was convinced that they were under significant threat.
"Some of my most memorable encounters have been with
giant manta rays in Mexico and Mozambique. To be
midwater with an enormous animal is an extraordinary
senstation…"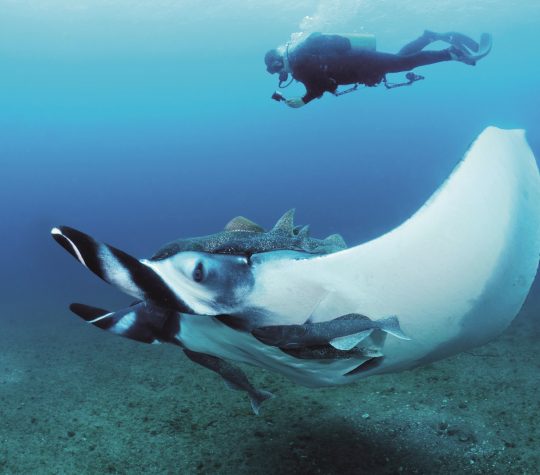 How do you balance work and family life?
I am very fortunate to have an explorer family. My husband Janneman Conradie is also a conservationist, as well as a pilot and professional cameraman who travels the world with me along with our 3-year old daughter Mia. Our work takes us to places like Indonesia, Myanmar, Ecuador and Mexico and the rest of the year is spent at our home in Mozambique. There is certainly no substitute for having a husband that supports your ambitions and shares your passions and goals. Having said that, raising a child in the nomadic lifestyle that we lead has been hard. Travelling with an infant can be really challenging and as a parent you stress a lot about their health, safety and well-being.
You co-founded charity organisation, the Marine Megafauna Foundation, what's your ambition for it?
I co-founded it with my good friend Dr. Simon J. Pierce. As conservation biologists, we are passionate about megafauna – particularly shark and rays – and set up the charity to research manta rays, whale sharks and other threatened marine giants.
We now work in areas around the world to conduct ground-breaking research inspire policymakers and individuals to take action. We educate global and local communities to develop long-term solutions to protect marine life and their key
habitats from negative human impact.
How do you spend downtime with the family?
We have been building our 'forever house' just outside of the Bazaruto Archipelago National Park in Mozambique for the past couple of years and I spend most of my free time creating the perfect space for my family. It is a passion project for sure and it allows me to be creative while also ensuring that we have a wonderful and stable base to come home to in the future.
If you could take 3 items on a desert island what would they be?
Obviously, I would take my husband and daughter before anything else but if we were marooned together then I would want to have a deck of cards, my freediving gear, and maybe a kayak in case I ever wanted to leave.
If you could pass one piece of advice on to your children, what would it be? If you want to be successful in this world, do something that you are passionate about. Study hard as it is very important in making it to the top, but more than anything, never take no for an answer.
marinemegafaunafoundation.org
@Marinemegafauna