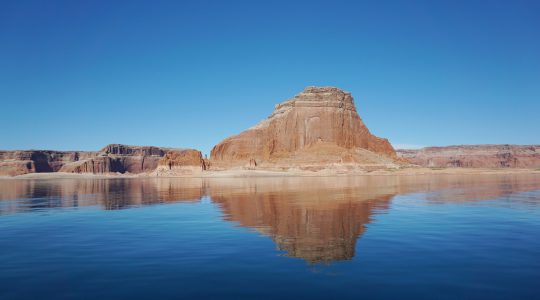 Adventures are brilliant! When I was 10 I wanted to be Indiana Jones, riding on my trusty horse from adventure to adventure, without a care in the world. Now, with a ten and thirteen year old of my own (Lukas and Connor), heading off to explore new lands is as exciting as ever. We've had Arizona and Utah on our bucket list for ages – land of dinosaurs and cowboys, canyons and cacti, so this Easter we took a road trip through the West.
We flew out to LA and checked in to the Viceroy, Santa Monica. The guys there were absolutely brilliant, warm and friendly, genuinely interested in making our stay a good one. We spent a couple days exploring Venice Beach, whizzing about on electric scooters (way better than Boris bikes), eating extraordinary ice creams (served in a cinnamon bun roll, with toasted marshmallows on top) and great Mexican food and generally just winding down. The breakfasts at the Viceroy definitely make our top five list of meals of the trip – giant pancake stacks, great juices and mimosas, and my now favourite breakfast dish of chilaquiles.
On day three we took a short flight to Vegas, picked up our car and after a quick lunch and a cruise down the strip (with a lot of questions from the boys, "mummy, why is there an Eiffel Tower/ pyramid/lady wearing a bikini and feathers/bunch of guys dressed like rabbits") we hit the road.
Two and a half hours later we arrived at the edge of Zion National Park. It's hard to sum up how beautiful the land is around here – craggy mesas of terracotta-coloured Navajo rock, shot with basalt rising out of wide sweeping plains, sliced with canyons and gorges that drop away for hundreds of feet. We had never tried glamping before, but this felt like the most incredible setting to give it a go. We stayed at Under Canvas, in a deluxe with adjoining hive, which is basically a larger tent, with a loo, sink and shower, proper kingsized bed and a wood burning stove, with a teepee close by that had two tiny camp beds for the boys. After a quick supper at the mess hall we headed to the camp fire to make s'mores. This definitely felt like a new adventure – there was a lot of chat around the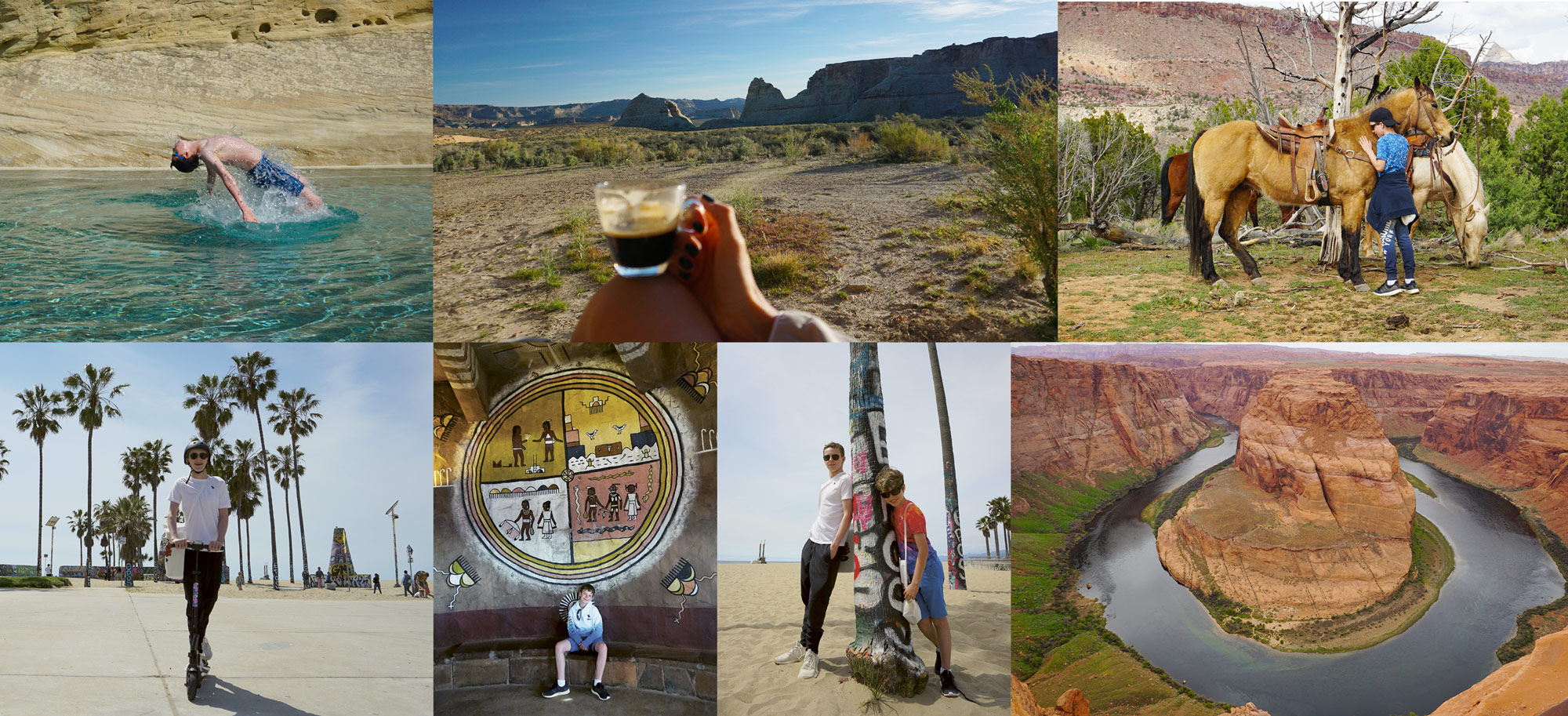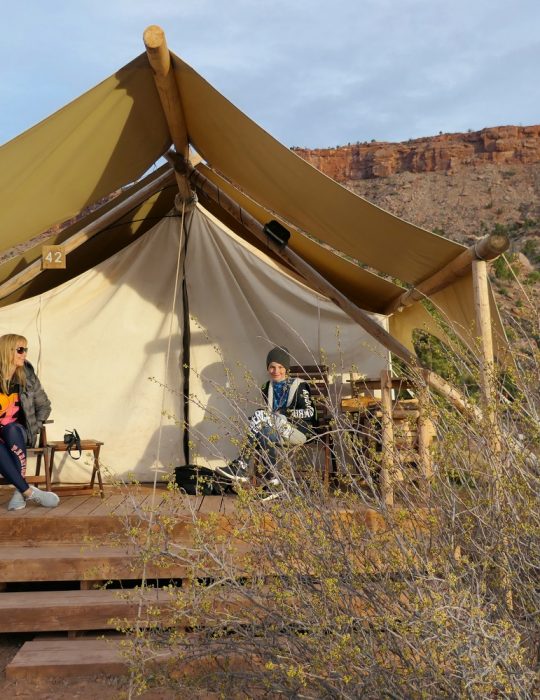 TOP 5 MOMENTS
CANYONEERING
in Zion
ANTELOPE CANYON
HORSE RIDING through the mesas
ELECTRIC SCOOTERS
on Venice Beach
SHOOTING STARS on the roof terrace
at Amangiri
TOP 5 MEALS
DESERT LOUNGE EXPERIENCE
Amangiri
SUSHI SAMBA Vegas
MERCADO Santa Monica
FOGO DE CHAO
Scottsdale
VICEROY
Santa Monica
TOP STAY
Amangiri
Clockwise: Connor swimming at Amangiri; morning views from Amangiri; Lukas with horses in Zion; electric scooters in Santa Monica; art in the Grand Canyon; street art Santa Monica; Horsehoe bend; glamping in Zion
fire about the bugs and critters that had made their way into peoples tents and two girls were anxiously discussing whether they should ask one of the team to help remove a tarantula from the outside of their tent – with that in mind we headed to bed for a not altogether restful night (it was cold, things rustled around your tent, giant millipedes in the towels and you could ear every sound in the otherwise complete silence).
Opening our tent flap the next morning, the view, the quiet, the space takes your breath away. This is what we came for. We grabbed a surprisingly good breakfast (French toast and berries) and met up with Mike, our brilliant canyoneering guide for the morning. This was another first for all of us – canyoneering is a combination of hiking, climbing, scrambling and rappelling (or abseiling) across the mesas. It's terrifying, exhilarating, demands teamwork and pushes you well out of your comfort zone. It's also one of the best things we've ever done and at the end of the morning, having got up, over and down peaks that seemed insurmountable when we arrived, we felt that we could do anything! Definitely a bottle the moment feeling. We picnicked on our packed lunches (again very good) and then met up with Derek and JR, our cowboys, who took us riding for the afternoon. JR is officially Lukas's new hero, with his ability to ride standing on his horse's back, somersault to the ground and mount from a running jump, combined with tales of rattle snakes and mountain lions. Riding through the mesas can't have changed much in the last thousand years, you can imagine the Navajo tribes making camp and long before that Allosaurus and Diplodocus roaming the lands.
The next morning we drove three hours south, to the Arizona/ Utah border, to Amangiri. One of the things I wasn't expecting was how much the scenery could change – from the vivid reds and blacks, to rolling pale green and yellow, to the soft yellow sandstone around Page. What I was expecting was that Amangiri would be beautiful and the service would be brilliant and the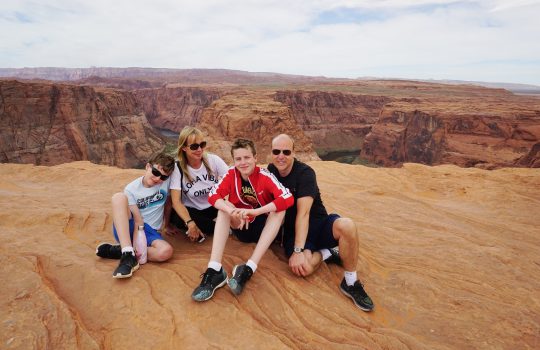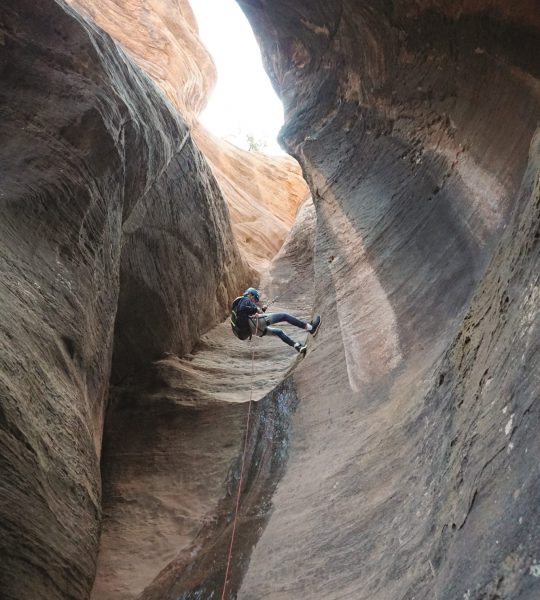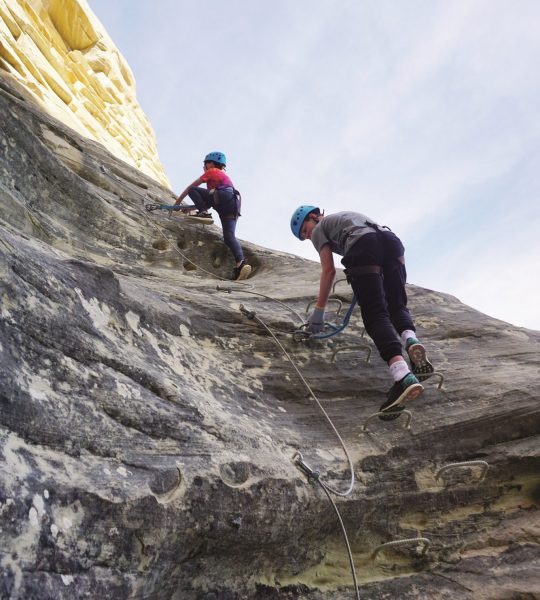 Sharai and her family at the Horseshoe Bend; canyoneering in Zion; Via Ferrata at Amangiri
hotel surpassed itself on both fronts. It's cleverly tucked away amongst the Mesas like some James Bond villain's lair – all polished concrete, pale tones and architectural glass that frames that most incredible views. From the moment we arrived, until the moment we left we felt cosseted and cared for. This is a place that's good for the soul, there's a peace here that's rare and it soothes frazzled edges within hours of arriving. I've seared in my mind that first coffee of the morning, on our terrace, with only the desert hares for company. We had a suite with a plunge pool, a mesa view terrace and a rooftop terrace, which was perfect for stargazing – the sky is extraordinary, huge and full and the first night as soon as we lay down, we saw a bunch of shooting stars. The food throughout our stay was delicious, but my favourite meal had to be the private desert lounge dinner, cooked on hot stones, with stargazing – the setting was perfect and the moment indescribably magical. There's a wealth of lovely things to do here, from guided hikes, painting in caves, yoga on top of a mesa and the pool is one of the most spectacular I've seen. One morning we did the Via Ferrata, climbing and crossing the mesas connected to a series of bridges, cables and hooks. Another, we chartered a boat on Lake Powell, explored the caves and coves of the Colorado river. The final morning we hiked to Horseshoe bend. My bucket list item was to visit Antelope Canyon, which again was every bit as beautiful as the million insta pics would have you believe.
On that subject we agreed our break would be completely tech free, no iPads, phones, email, WhatsApp, gaming or Insta from when we landed in LA to getting back on our final flight home to the UK. It was a really great call and meant that we played lots of family games of UNO, battleships and Guess Who; told tales and laughed more. I want our kids to know that there is nothing more important to us than the time we spend together. It also makes you realise how tech-dependant people are, from silent families at the dining table, their faces lit up by screens, to girls posting in the pool, I can highly recommend giving it a break. I also need to give a shout out to Bryony at Scott Dunn, who helped us put together this trip – she was brilliant and a font of knowledge on the area, including the fact that you have to book a slot at Antelope Canyon and that these sell out pretty much as they're released, months in advance. We got our Antelope slot and built the rest of our itinerary around this.
From Amangiri we drove down to the Grand Canyon, which was magnificent and then finished our stay with a few days in Scottsdale. On the last evening of our holiday we wandered through the art galleries and shops of the Old Town. Lukas chose a postcard that really sums it all up: Life is not measured in how many breaths you take, but rather in how many moments take your breath away…